Club president Hiroki Hayashi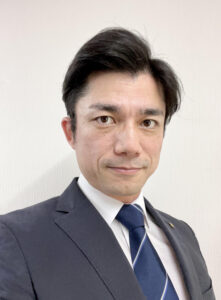 Sendai Ohu Rotary Club is in its second year of establishment.
Most of our members joined Rotary Club for their first time, and it was a year of focusing on solidifying the organization; with the advices and supports of Rotarians in District 2520 and many others, however, we have successfully entered the new year.
We would like to express our sincere gratitude here.
In our first year, we had a lot of discussions about the business which should be the basis of our club; and we are finally going to start "URUSHI PROJECT" this year.
Through the opportunity to plant URUSHI (lacquer trees) and experience Japanese traditional culture, we intend to embody the three pillars of our club's efforts: protection of the environment, fostering of the primary industry, and education.
In addition, our club has very unique systems compared to the other clubs; there are "4 Teams (White, Green, Gold, Blue)" that enable us to participate in activities that we are not bound by the framework of committees, and "Supporting Members system" that even non-regular members casually join us, if they have an interest in any of our activities.
Why don't you join us in our club, if you have ever thought that you feel there is no place where you can participate in volunteer activities?
Witnessing the pandemic of COVID-19 and the invasion of Ukraine by Russia, we are keenly aware of the importance of "compassion" and "solidarity".
Right now, the spirit of Rotary Club is needed; to show compassion for others and strengthen our ties through actions.
Sendai Ohu Rotary Club welcomes everyone who seeks to realize "compassion" and "solidarity" through our volunteer activities; it does not matter whether you are a regular member or not.
2022-2023 Club President
Hiroki Hayashi